Iola Car Show Event Sponsorship 2017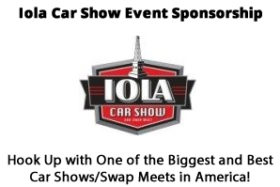 Hook Up with One of the Biggest and Best Car Shows/Swap Meets in America!
The Iola Car Show is one of the biggest automotive events in America, and offers some of the best sponsorship values you'll find anywhere!
Here are some of the benefits/options of becoming a sponsor:
Enhance Inclusion in Show Directory, online and social media channels
Premium signage on grounds during event
Sponsor Pass
Commercials on video boards during show
Inclusion in Super Saturday Give Away
Allotment of 3-day passes
Superior location vendor space
Speaking/Presenting Opportunity
Daily Tower/PA Announcements
VIP Tour, Pickups/Drop-offs from Car Hops
Inclusion on poster, registration, mailings, etc.
Prominent year-round signage on grounds/buildings
And More
Interested in becoming an Iola Car Show sponsor?  Show Sponsorship's are Available!
Web: http://iolaoldcarshow.com/sponsorships/
Join the network of sponsors no other show can offer.   Please feel free to contact with any questions us at 715-445-4000 or email: joe@iolaoldcarshow.com