Iola Car Show & Swap Meet 2016 – Over 2,200 Show Cars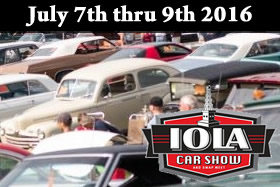 44th Annual IOLA"16 Car Show & Swap Meet
Date: July 7th thru 9th 2016
Location: Iola, Wisconsin
One of America's Largest Car Collector Show and Swap Meet!
Join Us at Iola Car Show a production of Iola Old Car Show Inc., a non-profit corporation established for the betterment of our area communities and to advance the specific charities of our members.
With over 300 acres that showcase more than 2,200 show cars, 4,430 swap spaces, 1,000 car corral spaces and 1,600 camping spaces, the Iola Car Show is one of the biggest events for auto enthusiasts in the Midwest.
Visit iolaoldcarshow.com for more information.
Show Promo: (Click Button to Play)