Huntington Beach Cruise-In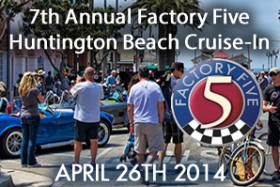 Well, its out I stole this from Karen Salvaggio a builder mate on the all girls build! I have been trying to be quiet but now that its out…..here is our all girls Factory Five Racing Cobra, come on down and enjoy some fun and see what this 5 day 5 girl build is all about!
Check out the awesome wheels provided by Hot Rods by Boyd!
Also we will be unveiling another amazing project with Hot Rod Magazine!
See you there! #PNFACTORY5build